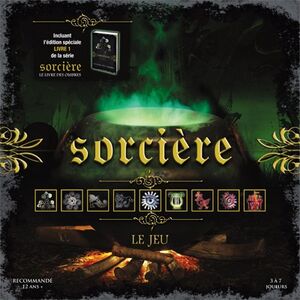 Sorcière: Le Jeu is a forthcoming board game based on Sweep, for the French-Canadian market. It is uncertain whether an English version is in the works.
Description
Edit
(Google-translanted from the French)
The Witches Council has issued a decree announcing that the relics to the major powers would be hidden at the top of the mountain Great Peak. Each family of witches decides she has to find them for their own benefit. The Woodbane will seek to expand their power; Rowanwand the desire to acquire the knowledge contained in these relics, the Vikroth (great warriors) will draw a new combat power; the Brightendale use them to improve their medical knowledge; Burnhide exploit the relics in their search for crystals and precious metals; Wyndenkell want to use the relics to discover new spells, and Leapvaughn, although taking the whole thing lightly, just as much wish recover these invaluable artifacts. All players, as members of one of these great families, will leave in search of relics in a race to the summit of Great Mountain Peak. They must overcome obstacles and use all their expertise to thwart magick spells cast against them by their opponents. In their ascent, they can branch off to adjacent trails that will lead them in the forest of Westwood, the old Methodist cemetery, the dark cave and shop practice magick. These paths will allow them to earn magick potions helping them cancel the spells that will be inflicted. The first player to reach the summit of the mountain then retrieve the relics and will be declared winner.
External Links
Edit